Friday, 13 August, 2021
A week ago Wednesday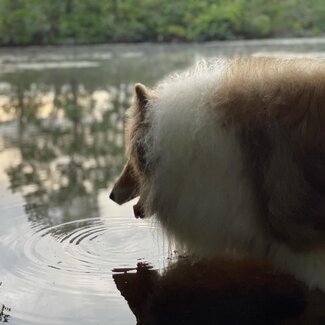 A week ago Wednesday we walked to the reservoir. We sat for a bit, and I lifted you down into the water so you could stand in the water bowl and have a drink—like so many thousands of times before. I thought—maybe—but did not know it would be the last. 

Over the past week, as your autumn waned, we have laughed and hugged and cried in turn and overlapping. I've carried you up and down the stairs for countless cuddles and snacks. 

Today that autumn turned to winter, and as we watch you cross the Rainbow Bridge, I know I'll only get to carry you one more time. We can only marvel at the number of times you've carried us: through jobs, journeys, moves, and more. Our hearts are broken a thousand times over, and our memories of you are all that will mend them. 

Farewell Tristan, our Puppy King. You will rule our hearts forever.