Wednesday, 9 October, 2019
An extraordinary honor: inducted into the Rhode Island Design Hall of Fame
A few months ago I got an email out of the blue informing me that I had been nominated to the Rhode Island Design Hall of Fame. Founded in 2014 by DESIGNxRI, current members include an inspiring array of designers, architects, and educators. Even the notion of being nominated was an amazing thing around which to try and wrap my brain. I had no idea how this came about until much later when I learned it was at the hand of J Hogue, Director of UX at Providence-based (and award-winning) digital agency Oomph. He's a long-time colleague and friend, and I'll never be able to thank him enough for the honor.
In order to provide the selection jury with something by which to guide their process, I was asked to provide a 20-page (maximum) PDF that would tell the story of my work history and accomplishments that might support the merit of the nomination. While it did feel a little odd, the process was actually quite an enjoyable one. It's not often that one takes the time to look back over more than two decades of professional life and take stock of what really stood out or informed the practitioner one has become. At the end of the process, I had the document, and a feeling like maybe do know a bit about what I'm doing. Not a bad outcome, no matter what else may come of it. It was a lot of work, so I decided to attach the document here and not have my mom be the only person with whom it's been shared.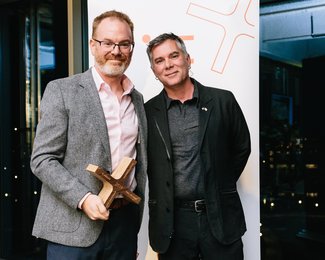 Flash forward a few weeks and I got a call from Lisa Carnevale, friend and Executive Director of DESIGNxRI. It was very thoughtful of her to call and tell me in person that I had indeed been selected for inclusion in this year's group of inductees. We've known each other for a bunch of years and I really admire what she has built in DESIGNxRI, and it really meant a lot to hear it from her directly. The next thing she asked is whom I would like to introduce me at the induction, which would take place during RI Design Week. It didn't take much thought: Coryndon Luxmoore is such a long-time friend,  stalwart in the RI design community, and all around charming curmudgeon that there really wasn't any better choice. Thankfully he didn't tell me to bug off when I asked him.
When the event finally came, I was lucky enough to have my parents, my wonderful wife Ellen, and my daughter Phoebe with her boyfriend Pat in attendance as well. It was a wonderful event, made even more so by the introduction that Coryndon delivered. Since he tweeted a link to a PDF, I'll ask forgiveness later for posting it all here.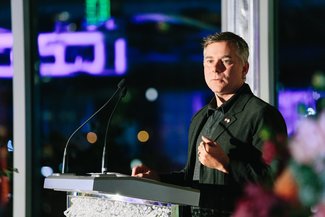 "I am honored to be up here introducing Jason Pamental, who embodies the true spirit of Rhode Island design. Raised in RI, educated in RI, trained in RI, working in RI and driving design forward across the globe.
Most of my time with Jason is spent either on the bike or after a bike ride discussing design over coffee in spandex. I have watched, cheered, and heckled as Jason has shifted from working at agencies into an international expert on digital type and design.
Jason spent years honing his web design skills and teaching young designers the craft. Like many of us he was struggling to keep his passion alive and find his place in the design world. He realized that his personal obsession for type and design was on the cusp of emerging on the web after decades of only Arial.
So he started learning, teaching himself about how type could blossom on the web. He shared his journey and passion with others through articles, a book, speaking at countless conferences around the globe, and now by setting type standards at the World Wide Web Consortium. Sparking that same passion in others from web designers to traditional typographers. Cheering them on as they learned and contributed to the shared mission of making the web beautiful and understandable.
For me, it is this transformation from designer to digital type expert that I think holds lessons for all designers here in Rhode Island.
Find a niche.
Examine your practice. Analyze your work. Find your tribe. Once you really understand what you care about, what drives you to create, focus deeply on that passion.
Embrace learning.
Don't be afraid of what you don't know. Use the intimacy of the Rhode Island design community to help support and encourage you and the global design community to broaden your knowledge.
Share your work.
This age of modern communication and digital communities means that more than ever that what you are doing here in Rhode Island should not stay in Rhode Island. Use its power to transform your work and the state.
Your work matters, your journey matters, share it with the world.
I am honored to help present this award to Jason in recognition of all that he has done for Rhode Island and the global design community. "
---
That was really special—and more than I have imagined.
What also felt special was the chance to thank people in my life that led me to this place and time. Family, friends, teachers, and colleagues—without whom I might never have found the love of type and knowledge of the web, had the opportunity to write about it, nor the courage to share that with the world. With that, I wanted to include my notes here as well so those thanks might live on a bit longer.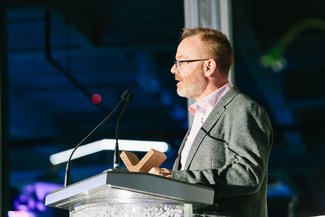 "I'm truly humbled to be among this incredible cohort of inductees, and to be included amongst design heroes of mine. I'd like to thank Design by RI and the whole design community for this honor.
I also have to thank just a few of the people who helped put me on the path that led me here today.
My parents, for nurturing a desire to learn
My professors Nancy Bockbrader and Heemong Kim at Rhode Island College for teaching me how to be a designer, instilling a love of type, and inviting me back there to teach
Charlie Allsworth for hiring me as a student and giving me the charge to 'figure this web thing out' way back in 1994 or so
And years later, to Jen Robbins and Coryndon for welcoming me into the Providence UX design community, and to Jen for the opportunity to write a book
To the Rhode Island design community for being so vibrant, welcoming, and inspiring
And finally, to my children Phoebe and Trevor and my amazingly supportive and patient wife Ellen for encouraging me to pursue the work, the speaking, and the teaching opportunities that have taken me all over the world. I simply couldn't do it without you."
---
All in all it was an extraordinary experience. It's always nice to be recognized for one's efforts, but to have it come from the community within which I've grown and worked for over 20 years is truly something special. Thank you all!