Sunday, 27 August, 2017
TypeCon musings
I'm about to speak at TypeCon in Boston this morning, and it's a huge treat to be here. It's my first visit to the event, and it's as warm and welcoming a crowd as any of the web community events I've experienced. Not to mention a real treat to see so many type heroes whose work I've used and admired over the years. I'm not going to lie: I've had more than a few fanboy moments.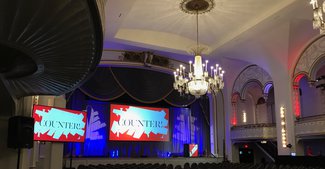 For those returning visitors, you might notice a change: yesterday I switched out Cardamon and Quire Sans for Essonnes with a dash of Cresta—both by James Todd. I found them via TypeKit, and Essonnes has really captured my heart. It's really beautiful, especially at scale. I wouldn't say I've managed a really complete redesign, but changing the color palette a bit and updating the typography really felt good. It'll have to do for now!
You can find slides and video of an earlier version of my talk here, and read a bit more about my thoughts on variable fonts over on Medium.